View the full article in the Seattle DJC here and PDF here.
We are excited to announce that we have broken ground on our first Senior Housing development for Rush Development. Rush Commercial completed its first Senior Housing project earlier this year, Revel Lacey, Fairwood will be its second.
RENTON, Wash. (September, 2018) – Village Concepts, a third-generation family-owned business in Washington State, has begun construction on Village Concepts of Fairwood in Renton, their newest retirement community.

Village Concepts of Fairwood is a planned 115- unit independent, assisted living, and memory care community, and the latest addition to the Village Concepts network of 17 communities across Western Washington. In partnership with Village Concepts, Marathon Development and The Rush Companies will be handling construction of the multifaceted community, which is projected to be completed in early 2020.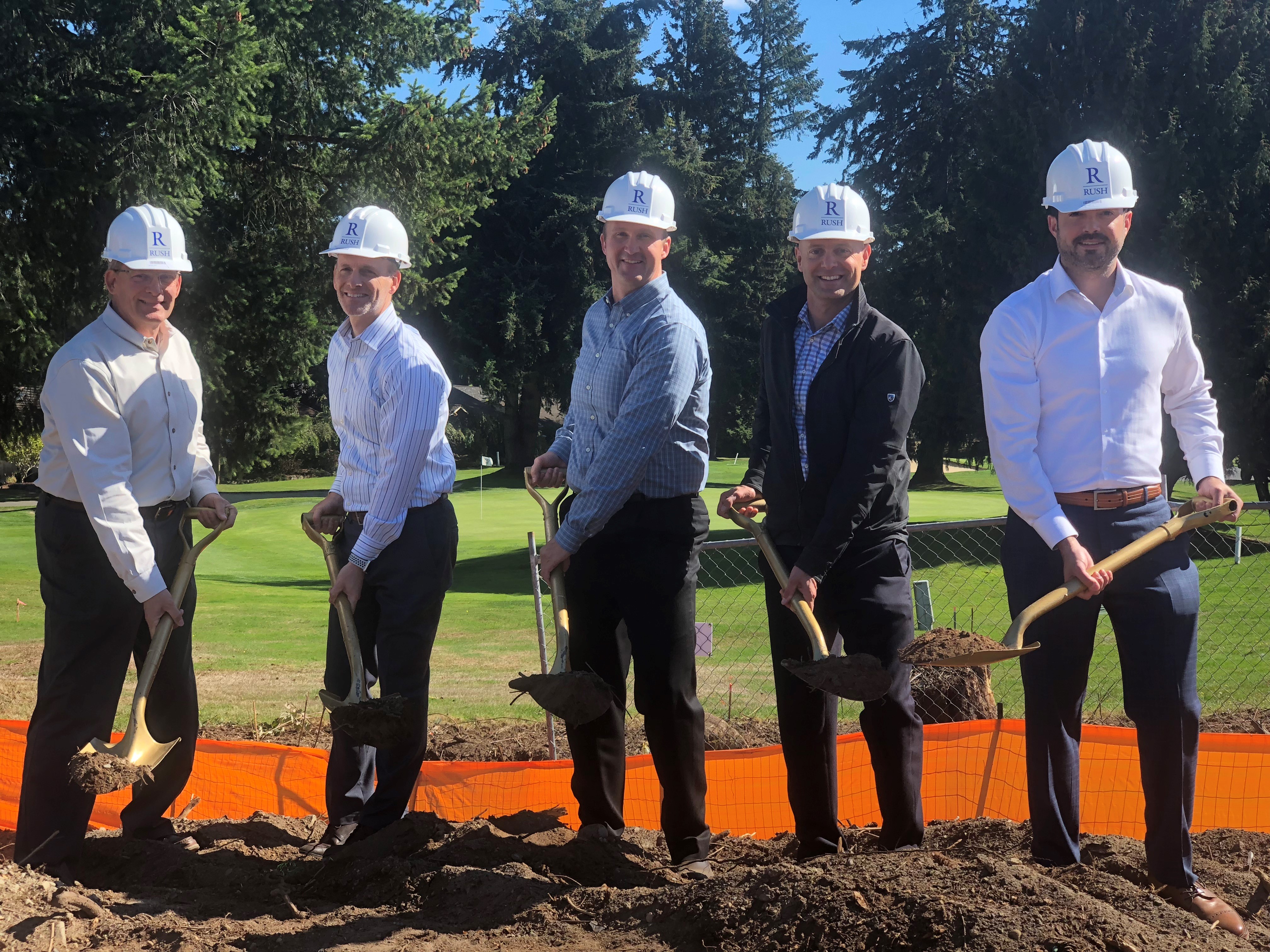 The Rush Companies President, Matt Smith, second from right, at the groundbreaking ceremony
With trained staff and on call nurses at all hours, and full-time security and emergency services, Village Concepts of Fairwood will offer personalized Assisted Living services and a secured Memory Care wing, with weekly housekeeping and linen service, and a salon. There is regularly scheduled transportation and planned recreational programs for residents as well as a wellness center and activity center. The community is also conveniently located across the street from a King County Library, grocery, and retail and access to Valley medical Center 10 minutes down the road.

Rendering of Fairwood
In addition to Village Concepts of Fairwood's amenities, the community also overlooks Fairwood Golf & Country Club, where residents of Village Concepts of Fairwood can enjoy the amenities and recreational opportunities of the club. A year-round golf course is accessible to golfers of all levels with varying degree of challenging courses. The Country Club also offers a state-of-the-art fitness center, with group fitness programs including yoga, massage therapy, a golf performance course, and more. Additionally, The Fairwood Country Club is home to the largest pool complex in Washington State which features a Junior Olympic sized pool open for laps, family swims and competitions, and a separate children's pool. The club restaurant is available to the Village Concept residents, and offers full service dining Tuesdays-Sundays. The proximity of these quality of life programs aid in "Bringing Retirement to Life" for Village Concepts of Fairwood as they strive to continually bring new and unique experiences to its residents whenever possible.