Multi-family housing is changing, especially in the Seattle market. Young professionals are looking for dense urban living spaces with ample amenities and a vibrant community, and microhousing is answering that call. Always excited to be on the cutting edge of real estate, we were happy to do the financing for the Novo apartments. You can learn more about this development in this article from the Daily Journal of Commerce.
- Blake Carbonatto, VP of Rush Capital
---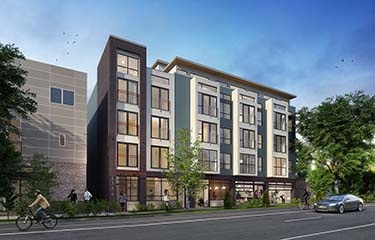 By Lynn Porter, DJC
Read on the Daily Journal of Commerce
Chad Duncan must be one heck of a Monopoly player.
At age 24, long before most people buy their first house, Duncan purchased a fourplex in Tacoma. He lived in one unit and rented out the rest, before trading up six years later when he and his father bought a 38-unit apartment building in the city.
Over the years, Duncan bought other small apartment buildings and fourplexes in Pierce County, and now owns 252 units in the county.
In 2002, he formed a Seattle-based firm, CWD Investments LLC, that is co-developing three apartment buildings in Seattle, where Duncan now lives.
Duncan attributes his zest for real estate to good role models — his parents bought and rented out housing — and the strong work ethic he learned from painting and mowing lawns at their properties.
"I just got the concept of residual income and wealth creation from real estate," he said.
CWD Investments and Emerald Bay Equity recently opened Kulle, which Duncan said is Swedish for "top of the hill." Kulle is at 1815 Bellevue Ave. N. on Capitol Hill, with 65 micro apartments that each have a bathroom and living space. Most of the units average 200 square feet; lofts average 275.
There are also two shared kitchens in Kulle, a rooftop deck, common laundry and a package concierge that sends a text to residents when they get a delivery.
Kulle is 98 percent leased.
Here is the team: HyBrid Architecture, architect; Halvorson Construction Group, general contractor; Swenson Say Faget, structural engineer; The Blueline Group, civil engineer; and Keystone Properties NW, management. The lender is First Savings Bank NW, represented by Thao Le.
In the Roosevelt neighborhood near the future light rail station, CWD is co-developing Novo, which Duncan said is Latin for "make anew."
The four-story Novo is at 6105 Roosevelt Way N.E., with 105 micro apartments, 1,950 square feet of retail, 24 underground parking stalls and storage for 30 bikes.
Novo is set to open next August. Units will have a bathroom and living space, and average about 200 square feet; lofts will average 260. There are four shared kitchens, a common laundry, rooftop deck, package concierge, elevator, lobby and courtyard. Rents have not been set, but parking is $175.
The project was designed by Skidmore Janette Architecture and Meridian Builders is the contractor. Also on the team are Swenson Say Faget, structural; and The Blueline Group, civil. Blake Carbonatto of Rush Capital and Paul Evans of Opus Bank helped arrange construction financing.
Duncan declined to name the other developer.
Also in Roosevelt, CWD and Emerald Bay Equity are co-developing a seven-story apartment project called Maude, named for a pig owned by Teddy Roosevelt.
Skidmore Janette designed Maude. The site is at 834 N.E. 67th St., across from the future light rail station. It has 75 efficiency studios averaging 300 square feet, with a kitchen, bathroom and living area. Residents will share a common laundry, rooftop deck and bike storage.
Pavilion Construction should complete Maude next September. The team includes Fossatti Pawlak Structural Engineers; Coterra Engineering, civil; and lender Opus Bank, represented by Paul Evans.
These projects are mostly aimed at millennial professionals, Duncan said, "from the barista to the Amazon engineer."
Microhousing residents like living in densely populated neighborhoods, he said, with coffee shops and bars nearby. But he said Seattle City Council has put so many restrictions on creating micro apartments that, "You might just as well do normal-sized studios," with rents starting at $1,600 to $1,700.
Duncan said his goal is to trade up real estate, just like in Monopoly, sometimes investing with partners. His firm has grown organically, he said, but he may take on investors so he can scale up.
Duncan worked as an asset manager for Goodman Real Estate in 2006 and 2007, partnering with it to purchase some Tacoma apartments.
Josh Obendorf has known Duncan since high school, and worked with him briefly at Goodman.
Obendorf said his friend finds deals others might deem too complex or unattractive on the surface, and improves the properties he owns.
He said Duncan works well with sellers, partners and staff: "He's a guy that I would trust not because I am his friend, but because I've seen his track record in the industry."
Obendorf was with Goodman for almost 10 years, but has stepped back to focus on his young family. He said he is providing a "second set of eyes" on the professionally managed portfolio Duncan owns.
Duncan said he has learned from others in the industry who have taught him or taken a chance on him. He credits Goodman with a strategy he employs: buy apartments that need fixing up, rehab them and raise rents.
He also said the late Jim Potter, who pioneered micro housing in Seattle, helped him get two Seattle sites permitted for micro housing. "He was just a generous guy," Duncan said, "(and) he gave other young guys a chance as well."
And, yes, Duncan said he is good at playing Monopoly. During a recent game with his 16-year-old nephew, Duncan told the teen: "Wherever you go to college, figure out how to buy a house and rent it out to all your friends."
---