We are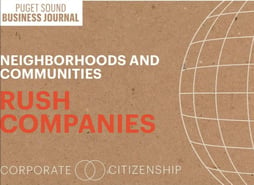 so honored to receive the Puget Sound Business Journal's Corporate Citizenship Award for Neighborhoods and Communities.
Take a peak below as President Matt Smith accepts this honor at the award luncheon in Seattle last month.
Why has Rush embraced The South Sound Care Foundation whole heartedly?
About a decade ago, Tacoma oncologist Dr. Frank Senecal set out to build a cancer research foundation to bring vanguard cancer treatments to the southern Puget Sound area. In those days, Senecal's foundation was just getting by, funded largely by a grateful patient who donated a Cadillac.
Then Senecal crossed paths with Gordon Rush, founder of The Rush Companies, a Gig Harbor-based Real Estate and development firm. Senecal mentioned his ambitions to Rush and he was on board to help Senecal's organization, South Sound CARE Foundation (SSCF).
"This man is incredible," Rush said of Senecal. "God-like ... People describe him this way."
The foundation researches new ways to stop cancer and to provide promising medications that are FDA-approved but hard to get because the medical community considers them unorthodox for late-stage cancer patients. Last year the foundation provided medications with a market value of $1.5 million to late-stage cancer patients."
At Rush we are incredibly proud to support the South Sound CARE Foundation. The first four years of it's annual Beer and Bites auction we underwrote the event, and last year we were proud to include four more companies in underwriting the event that raised over $640,000. We are thankful for our team at Rush who donates their time and services for this event. Last year we had more than 60 Rush volunteers, and many of our friends and families pitched in as well.
Founder, Gordon Rush sums up our reason for our deep support of SSCF as this... "It was started by Senecal who is devoted to his patients, many of whom attend the Beer and Bites auction and bid $25,000 on items because they say, "I wouldn't be alive without Frank,"
A final thank you to Gordon, for giving SSCF much more exposure and encouraging The Rush Companies employees to give back to such an important and deserving cause.