The Rush Companies is excited to introduce Lee Kilcup as the leader of Rush Commercial Construction. Lee is a prominent figure in Puget Sound construction and is best known for his role as President and CEO of GLY Construction.
As Rush Commercial's lead, Lee's highest priority is delivering great projects to clients. He is looking forward to working alongside Paul Garlock, Rush Commercial Operations Manager. Paul comes to Rush with 41 years of experience in the construction industry. Together they will focus on bench strength of staff to keep promises to clients, looking at creative ways to deliver projects and analyzing systems and procedures to make Rush more efficient.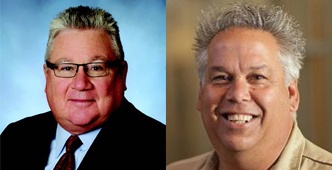 Left: Lee Kilcup, Rush Commercial Lead Right: Paul Garlock, Rush Commercial Operations Manager
As a result of the current leadership transition, Rush Commercial will maintain its present volume while implementing best practices and procedures under the guidance of Lee. Rush Commercial will strive to create a diverse project base that allows for flexibility, as necessary, with fluctuating economic markets. Target projects include senior housing and assisted living, student housing, medical, office, and tenant improvement, with a continuation in multi-family and mixed use. Building from Rush Development's project pipeline, Rush Commercial will continue a healthy mix of in-house and third party work, and continue to grow at a sustainable pace.
****
Founded by Gordon Rush in 1987, The Rush Companies is comprised of six real estate focused businesses – Development, Capital, Design, Commercial, Residential and Property Management. Rush has offices in Gig Harbor, Seattle and Woodinville. For more information, visit www.therushcompanies.com.
---