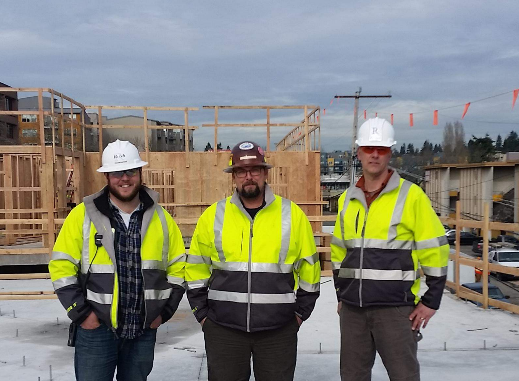 A new project in Rush Commercial utilized panelization, a tool that is new to the Rush Companies, and currently being used at the Lake City project today.
Panelization involves working closely with a building components company to manufacture the building's walls before sending them to the project site. Once the panels arrive on the site, they can be rolled out, hoisted, and set into place more quickly.
Rush Commercial Construction determined early in the pre-construction phase of the project that panelization would save on the overall duration of the project. The property line of the project site itself is the exterior of the building, which means the team is very limited in lay-down room for storing materials. Panelization saves them space and prevents them from renting additional square footage around the project site.
It also appeared that panelization would produce a much better quality product, as it is built within a factory controlled setting. While panelization isn't necessarily cheaper than traditional framing, it streamlines the process, saving the owner time and the construction team from extending the project beyond schedule. The team concluded that it would ultimately provide the owner, Summer-Hill Apartment Communities, a higher quality experience and proposed the option.
Once the owner confirmed that they wanted to use panelization, the project team determined through research and reputation that Sound Building Components from Sedro-Woolley, WA was the fabricator for the Lake City Project. The manufacturing plant is comprised of over five acres of assembly plants; which include quality control, layout, mass production, as well many acres of laydown area.
Constructing walls before they go on site creates new challenges for the project as well. The design for the project had to be absolutely completed earlier in the process, in order to have every wall engineered in CAD and precisely manufactured. Panelization leaves no room for error around the design of windows, doors, and plumbing.
The project also requires much more coordination, because it adds another contractor to the process. The materials had to be shipped to Sound Building Components first, then the completed wall panels were shipped to the job site.
While panelization has been around for decades, it appears to be a growing industry practice. It's seen primarily in urban multifamily construction because it saves on time and laydown space. Having experience in this area could open more doors for Rush Commercial and lead to more satisfied customers.
As hoped, the project is ahead of schedule, and the team reports the quality of the product being installed is great! A big thanks to the Sound Building Components Team in Sedro Woolley, WA (Fabricator), G-Builders (Installer), and Summer-Hill for the opportunity to build this tremendous Project.
Most importantly, thanks to the project team: Jarrod Fenberg, Sr. Project Manager; Tim Callahan, Project Manager; George Goff, Superintendent; Brandon Houghton, Assistant Superintendent; Darin Parker, Safety Director; Russ Smith, Crane Operator/Laborer; and Brandon Delgado, Laborer.
---