With the Holidays upon us, it's time to focus on giving back to the community that continues to offer so much to our business and our people. That's why this month, Rush Properties hosted a food drive for FISH Food Banks of Pierce County.
The drive was hosted as a part of our quarterly client appreciation events that help us stay connected to the customers in our buildings. We invited more than 15 buildings in Pierce County to participate in the food drive, which spanned from October to November.
More than 690 pounds of food were donated by our commercial tenants and Rush staff. Rush Gives, Rush Properties, and the office staff offered monetary donations, raising an additional $1,073.90 for food and basic needs.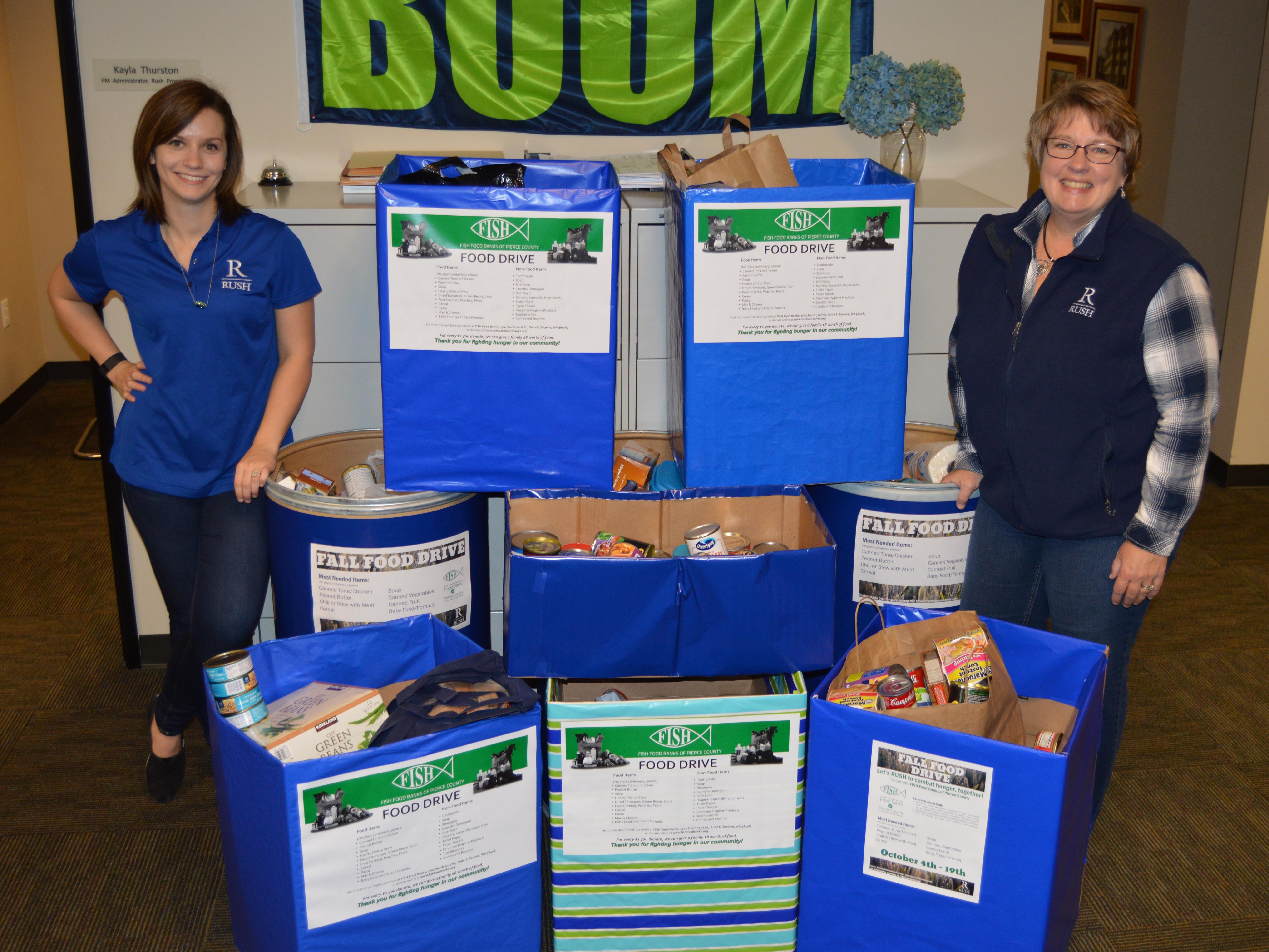 Kayla Dyer (left) and Melinda King (right) stand next to 690 lbs of food before dropping it off at the food bank.
FISH Food Banks is the largest food bank in Pierce County, providing food at 17 separate locations to approximately 50,000 people in need each month, according to the FISH website. FISH Food Banks is passionate about making connections and supporting people in the community.
According to Kayla Dyer, Property Management Administrator, she planned the event because the values of FISH align with the company.
"We care about creating exceptional working environments, and strong communities are the foundation of our work environments. Partnering with our clients to give back strengthens the community where our clients live and work." she said.
Participation was great across the board. One client, Gig Harbor Financial Center, scheduled an extra pickup because their food bin was overflowing before the deadline. Other tenants provided donation bins within their suite, in addition to the bins in the lobbies of each building. Others asked to extend the donation drive to make sure their employees and clients had time to participate in their suite.
"FISH was grateful for the support from Rush and our tenants and would love to partner with us again next year." Dyer said. "I'm hopeful we can!"
---