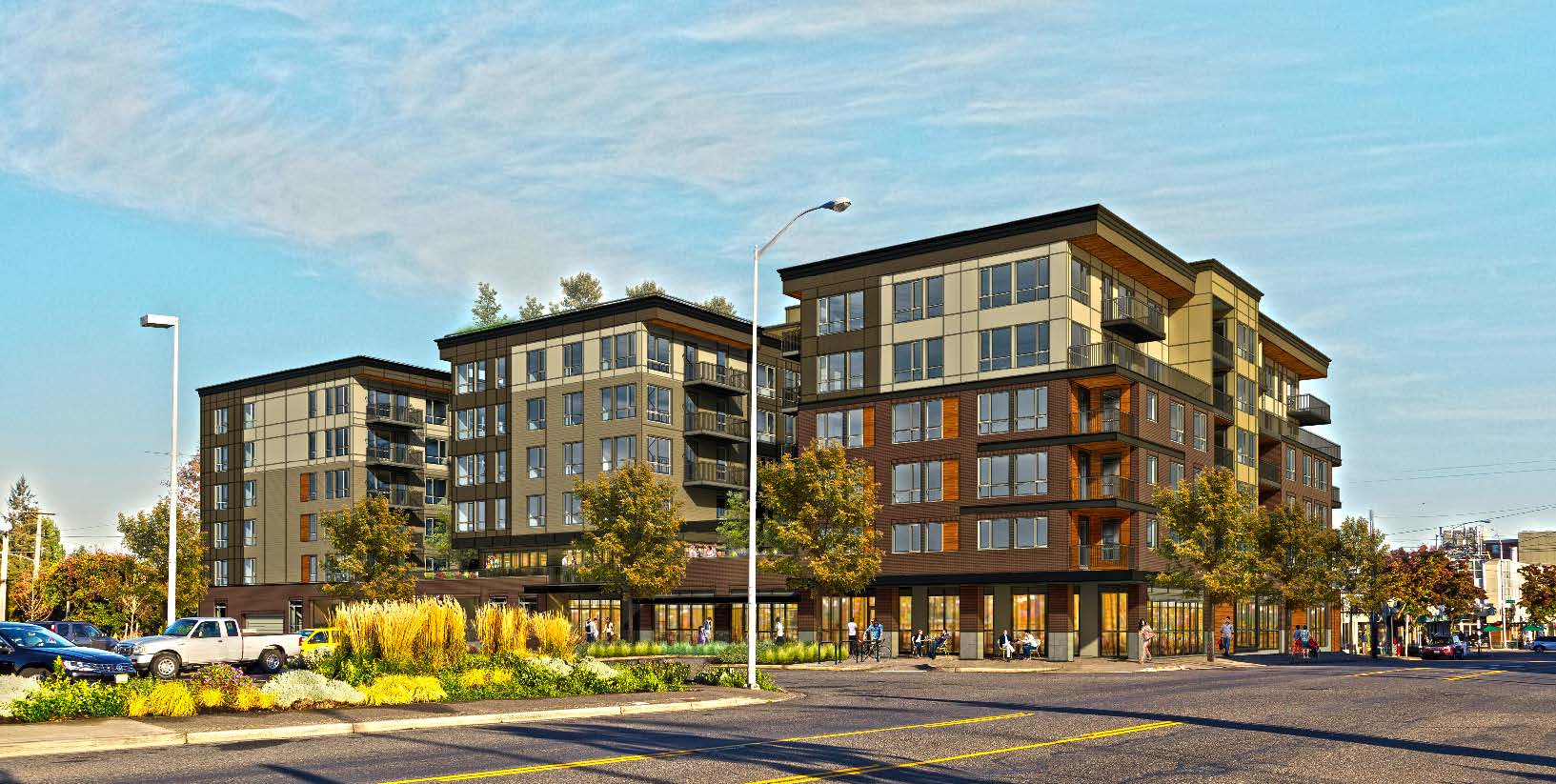 A year ago, The Rush Companies was proud to complete Proctor Station, a mixed-use multifamily and retail project located in Tacoma's Proctor District. It was the first development in the Proctor community that offered modern urban living with quality amenities. The success of that project led us to out next Proctor project, Madison25. The project includes luxury apartments and ground floor retail. We're looking forward to breaking ground on Madison25 in the coming months. I was happy to speak with the DJC more about this upcoming project and the greater Tacoma apartment market in the article below.
- Chris DeWald, Vice President of Rush Development
Read the article in the DJC here.
By BENJAMIN MINNICK
Journal Construction Editor
There's good news for apartment developers in Tacoma: Demand is up because renters are fleeing high prices in Seattle.
But there's also bad news: Seattle's overheated market is pushing up construction costs in Tacoma.
Rush Development has a good example of how quickly this change is happening. About a year ago, Rush finished Proctor Station in North Tacoma. It cost $31.5 million to develop, and all 151 units and 12,000 square feet of retail space are leased.
Rush will break ground in mid-April on a similar project just a few blocks away, at 3910 N. 25th St. It has 10 fewer units and 8,800 square feet of retail, but the development cost will be $36 million.
Chris DeWald, vice president at Rush, said the shortage of subcontractors is one of the main drivers behind the rising costs. He said many of the area's subcontractors are busy with projects in Seattle.
Rush is building the 25th Street project, called Madison25, with its in-house contracting division, Rush Commercial.
DeWald said developers in Tacoma have the same construction costs as developers in Seattle, but can't get the higher rents to support those costs. He said rents for "luxury" apartments in Madison25, similar to those in Proctor Station, will range from $1,275 for a 578-square-foot studio to $2,500 for a two-bedroom with den that is 1,192 square feet.
Robin Chell and Scott Surdyke of Robin Chell Design wrote in the DJC last month that rents for mid-rise apartments in South Lake Union average $3.23 a square foot. In comparison, rents at Madison25 will be about $1 less per square foot when that building opens in about 18 months.
Doug Oberst, a principal at BCRA, the firm that designed Madison25, said rising costs are threatening some projects.
"Tacoma's advantage, lower rents, can only support so much construction cost," he wrote in an email. "Rents are also going up but may not keep pace with construction cost."
Rush isn't the only developer seeing costs jump in Tacoma.
Affinity Management President Kirk Rector said costs are up 5-10 percent — and more in some cases — over the past year or two. He said land costs are a little higher, but overall everything except soft costs have gone up.
Affinity is planning sixth & alder, a 111-unit apartment building with 6,600 square feet of retail at 3118 Sixth Ave., in Tacoma's Sixth Avenue Business District. Demolition to clear two houses and two commercial buildings will start this summer.
Rector said it will take Korsmo Construction about a year to build the project, which was designed by Ross Deckman & Associates. AHBL is the civil and structural engineer.
Some of Rector's apartments on Sixth will be 375-square-foot micro-units. Micro-units tend to get a higher rent per square foot. Rector said they are targeting millennials, military, University of Puget Sound faculty and middle-age professionals.
Rector said the units will rent for $2.25-$2.70 a square foot. He said this building is a little more expensive because it will have underground parking for 111 cars.
Rector said the site is near the university, hospital district and downtown.
"The proximity to UPS is dynamite," he said.
To the east, in the Stadium District, Carino & Associates is constructing the 172-unit Stadium Apartments at 102 N. G St. Project architect BCRA on its website says the building will have 2,260 square feet of retail, and a mix of studio and one- and two-bedroom units. Sierra Construction expects to finish the project in August 2018.
An article in the The News Tribune last year said units at Stadium Apartments will range from 539 to 1,327 square feet, and rent for $1,255 to $3,091 per month. That's about $2.33 a square foot.
DeWald said the Proctor District is Tacoma's first sub-neighborhood that mirrors those found in Seattle, which are walkable and have a community feel. He said the Stadium District is starting to get that same vibe and is seeing new development, such as Rhein Haus German beer hall, which opened on North First Street near the Stadium Apartments' site. Rhein Haus operates five restaurants in Seattle and one in Denver.
The proposed expansion of Tacoma Link light rail system would run along the south side of Rhein Haus, on Division Street.
"Tacoma is starting to grow up and become a big city," DeWald said.
Tacoma senior planner Stephen Atkinson said this is the most intense period of development in Tacoma in a decade. There are six mixed-use projects with over 100 units in the permitting process or under construction, he said, and more outside interest, such as Seattle chefs wanting to open restaurants in Tacoma.
Future apartment projects in Tacoma will likely depend on rents rising to keep up with construction costs, DeWald said. The outlook has been strong lately: RentCafe reports that average rents for apartments in Tacoma were up 13 percent over the year ending September 2016; and Freddie Mac earlier this year listed Tacoma as a top-10 U.S. market for multifamily investment.
Rector said Tacoma has many pluses for renters, especially as transit improves. "You get so much more value for your dollar down here, per square foot," he said.
Here is the team for Madison25: BCRA, architect; American Design International, interior design; and edison47, property manager. The owner is 25th and Proctor Investors LLC, which is comprised of Rush and some investment partners.
BCRA also designed Proctor Station.
---